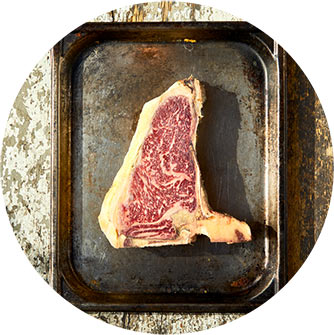 The only restaurant in Finland to serve hand-picked, Finnish, succulently marbled dairy cow.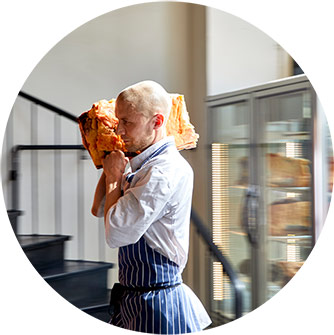 The dairy cow is tenderised in dry ageing coolers located in the restaurant's dining room.
All dishes are prepared on a charcoal grill.
Reserve a table »
Opening times
Wednesday- Friday from 4pm- 11pm
Saturday from 2pm- 11pm
Sunday- Tuesday Closed
Last reservations Wed-Thu at 9pm, Fri-Sat at 9.30pm
Make your reservation via DinnerBooking which is always up-to-date on our available free tables. Your reservation is valid once you have received confirmation. Time for the reservation is 2,5 hours. After 8.30pm reservation time is 1.5 hours.
You can contact us at: myynti@ravinteli.fi or by phone +35850 325 6678.
Our sales team is available to contact by phone or email from Tuesday to Friday from 12pm until 4pm.
You can contact our restaurant from Wednesday to Friday starting at 4pm, on Saturday starting at 1pm +358400 354 997.
GROUP RESERVATIONS
Huber's upstairs area has seats for up to 60 people and the entire restaurant can host up to a 140 people. Inquire for group reservations by using the form below, by e-mailing myynti@ravinteli.fi or by phoning us: +358 50 325 6678. We can also serve outside our regular opening hours on special agreements.